Heidfeld becomes Mercedes reserve driver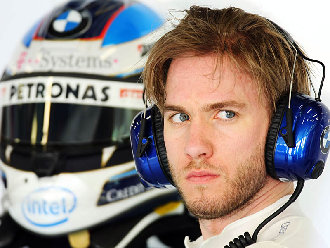 The Mercedes Grand Prix team has confirmed that Nick Heidfeld has joined as official test and reserve driver for this season. The German, who had hoped to race for the Brackley squad, switches from the departed BMW outfit.
With BMW having confirmed its exit from Formula 1 last July, Heidfeld had targeted a race seat alongside Nico Rosberg and was not shy to admit his disappointment upon the confirmation of Michael Schumacher. The appointment of the Monchengladbach man confirms Mercedes' 100 percent German line-up for its comeback season.
"I am very pleased to be joining Mercedes GP," commented Heidfeld, who has finished on the podium 12 times. "It's the team which has attracted the most interest in the close season, not only because of the comeback of Michael Schumacher but also because this season sees the return of the silver arrows cars as a Mercedes-Benz works team for the first time in over fifty years.
"Whilst I would of course have preferred a seat as an active driver, I am really proud to be part of the new silver arrows team. I have seen how committed everyone at the team is and I feel the same. I will be doing my very best to support Michael and Nico this year."
After clinching the F3000 title in 1999, 'Quick Nick' has since gained the reputation of being one of F1's most unfortunate drivers, missing out on chances to join leading teams on more than one occasion; drives with Prost and Sauber in 2000 and 2001 could have led to a McLaren move for 2002 although Heidfeld missed out to former team-mate Kimi Räikkönen.
A single season with Jordan came in 2004 before another with Williams in 2005, which saw him clinch his first and so far only pole position for the European Grand Prix. Nick joined BMW as it entered the sport as a factory team in 2006, enjoying a career-best championship finishing position of fifth in 2007.
GPupdate